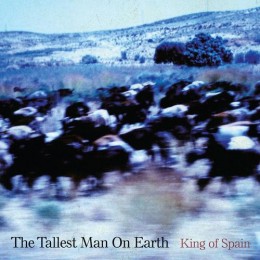 The Tallest Man on Earth might not be quite ready to unveil that new record in the works (save for a few live previews), but Kristian Matsson won't be sitting out for this year's Record Store Day in the meantime. This spring will see the release of The Wild Hunt single "King of Spain" for the first time ever on vinyl, complete with a pair of B-sides and limited to just 2,000 12″ copies.
For the many of us whom have already made the excellent A-side a permanent part of our folk-rock psyche, the B-sides are the real treat: "Graceland," that's right a cover of the title track off Paul Simon's seminal 1986 LP, as well as Tallest Man original rarity "Where I Thought I Met the Angels."
Immortalizing standout cuts for fans on the best analog format still kicking sounds like a fine gift to tide us over until the next LP. Get in line early, however: this wax will be snatched up quick come April 21.