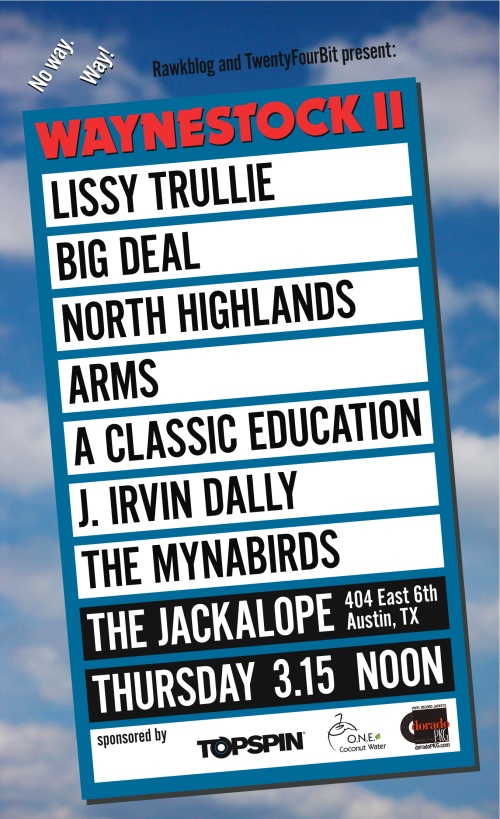 We're excited to announce that TwentyFourBit has teamed up with our pals at Rawkblog for a follow-up to last year's inaugural Waynestock day party in Austin, Texas during SXSW. Starting today, we're calling all festival-going fans of 24B, Rawkblog, that stellar lineup above, and free jams/drinks/good times to mark your calendars for the afternoon of Thursday, March 15th. Waynestock II will feature live sets by a number of artists you may have heard us raving about in recent months, including Lissy Trullie, North Highlands, ARMS, Big Deal, J. Irvin Dally, A Classic Education, and — a group praised on this site just last week — The Mynabirds. Without further ado, please join us on our Facebook event page or add a stop by The Jackalope (right in the middle of downtown festivities) to your 12PM – 6PM itinerary.
Waynestock II has been made possible thanks to our gracious sponsors: Topspin, DoradoPKG Music Packaging, and O.N.E. Coconut Water. In addition to free beer at the show, free O.N.E. Coconut Water will be available, as well as an opportunity to take Topspin's game-changing platform for a spin. In fact, you can take their streaming widget for a test drive right now while previewing new cuts from our lineup below:
To download these MP3s for free, we used Topspin's tools, as well: Waynestock Mixtape .Zip
Here's info on what our friends at DoradoPkg Music Packaging have to offer:
DoradoPkg prints album covers and other entertainment materials as dynamic and vibrant as the music they hold.  Artists, labels and distributors have turned to DoradoPkg since 1993 for the best album covers and record jackets available.  Committed to customer service, DoradoPkg works with and cares about all genres of music and all kinds of clients – from major distributors to bands self-releasing albums. With its well-defined spine, sturdy seams, superior print quality and custom modifications including special die-cuts, spot finishing, foil stamping and embossing, each album exceeds your expectations. That's the Dorado Record Jacket.  For more information about DoradoPkg, visit www.doradopkg.com. Get DoradoPkg updates on Facebook and Twitter, @DoradoPKG.
Waynestock II @ The Jackalope
Party time! Excellent: Thurs., March 15, Noon – 6PM
404 East 6th Street
Austin, Texas
Special thanks to Traci Larson for creating our poster.