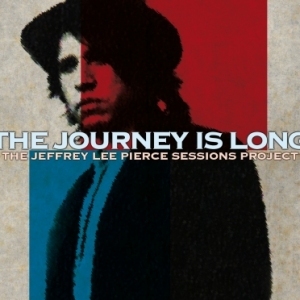 Woody Guthrie wasn't the only prolific songwriter to leave behind a treasure trove of half-written material and a host of notable artists inspired to honor his legacy by completing the work: Jeffrey Lee Pierce, founding member of influential Los Angeles punk group the Gun Club, is set to have two more volumes of works-in-progress posthumously finished by the likes of Nick Cave, Mark Lanegan, Debbie Harry, Lydia Lunch, Mick Harvey, Warren Ellis, Isabel Campbell, and more.
Following 2009's unveiling of the Jeffrey Lee Pierce Sessions, titled We Are Only Riders, Glitterhouse Records will release a new 18-track collection next month with a final volume, The Task Has Overwhelmed Us, aiming for a late-2012 release. According to the label:
Many songs started as nascent ideas captured on a cassette unearthed by Pierce's latter day collaborator Cypress Grove while clearing out his loft. Harking back to the collective ethos of Pierce's beloved jazz, artists spill into each other's tracks, reinterpreting or finishing lyrical and melodic sketches while some chose personal favorites from his catalogue.
Volume #2, The Journey Is Long, features Cave opening the set with "City In Pain" before returning for a duet cover with Blondie frontwoman Debbie Harry of Gun Club's 1988 single "The Breaking Hands." (Last time, Cave and Harry collaborated on "Free To Walk.") In addition to a contribution from longtime duet partners Mark Lanegan and Isobel Campbell, Bad Seeds/Birthday Party members as well as many others from the debut effort are returning. All 18 tracks arrive on vinyl and CD on March 30th, but in the meantime, preview the tracklist and revisit the previous Cave/Harry track below:
The Journey Is Long
01. "City In Pain" – Nick Cave
02. "I'm Going Upstairs "– Hugo Race
03. "From Death To Texas" – Steve Wynn
04. "The Breaking Hands" – Mark Lanegan & Isobel Campbell
05. "The Jungle Book" – The Amber Lights
06. "Rose's Blues" – Bertrand Cantat, Pascal Humbert, Warren Ellis, Cypress Grove
07. "Zonar Roze" – Thalia Zedek & Chris Brokaw
08. "L.A. County Jail Blues" – Cypress Grove
09. "I Wanna Be You" – Barry Adamson
10. "Sonny Boy" – Mick Harvey
11. "Book Of Love" – Vertical Smile
12. "Body And Soul" – Astro-Unicorn
13. "The Brink" – Lydia Lunch
14. "The Breaking Hands" – Nick Cave & Deborah Harry
15. "In My Room" – Tex Perkins & Lydia Lunch
16. "The Jungle Book" – Tav Falco's Panther Burns
17. "St. Mark's Place" – Mick Harvey
18. "Ain't My Problem Baby" – The Jim Jones Revue
"Free to Walk