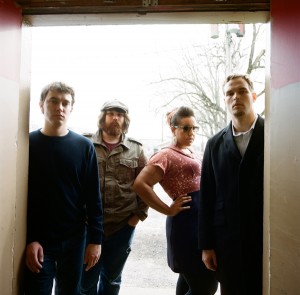 Breakout Athens, Alabama quartet Alabama Shakes may be most noted in the press for being the freshest dose of retro-soul around, but — as they've made an effort to point out in a first round of interviews — influences from a range of genres, namely rock, are either beneath the surface on their debut or in store for future releases. There's no need to tiptoe around the label adjustment, however, as frontwoman Brittany Howard and Co. just kicked the door open by taking on classic-rock royalty: Performing for NPR recently, they covered Led Zeppelin's epic "How Many More Times," appropriately off that band's debut.
Howard and guitarist Heath Fogg (who originally left a classic-rock cover band to join the Shakes) sink their teeth into channeling Robert Plant and Jimmy Page in their hungry heyday while drummer Steve Johnson and bassist Zac Cockrell hold down the rhythm section with steady confidence. All told, it's an impressive take and one which bodes well for this promising group taking their sound in any direction in the years to come.
So, without further ado, check out their full set here and the Zeppelin cover above (thanks to NPR affiliate WXPN's The Key).