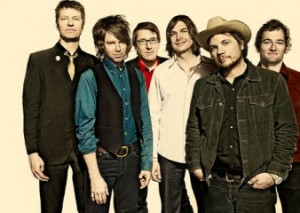 A handful of noteworthy Wilco bits have crossed our radar today, so let's round 'em up. First off, given that there's no denying the fine musical chemistry between Jeff Tweedy and Mavis Staples on her excellent 2010 solo LP, You Are Not Alone, we're thrilled to hear the pair are plotting to team up again for a follow-up. "Tweedy and I just talked about [doing a second album]," Staples told London Free Press this week. "We actually thought we were going to get started before Christmas, only Wilco were still promoting their CD. But he said, 'Mavis, right after the holidays, we've got to order some barbecue and talk about what we're going to do next.' I haven't heard any songs yet, but it's on the books. So I'm looking forward to that."
And if that doesn't have you psyched for what's to come from the Wilco frontman and the living legend, then this recent video of Staples leading Wilco and Nick Lowe through a rehearsal of the Band's "The Weight," backstage at Chicago's Civic Opera House, should offer a friendly reminder that they're just getting started:
Last but not least, Tweedy's son Spencer shared a video interpretation of the title track off his dad's latest Wilco record, The Whole Love. Watch the clip, which co-stars his brother/fellow Raccoonist and fashion blogging prodigy Tavi Gevinson, below:
Now if that doesn't make you want to be a kid again, I don't know what will.