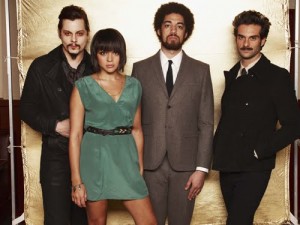 Last May, Danger Mouse, Daniele Luppi, and director Chris Milk released the first official video from their spaghetti western-inspired collaborative LP, Rome. While that clip — depicting the "lucid dream of the protagonist" on the Norah Jones-led "Black" — broke new ground by offering an interactive web experience in lieu of a traditional format, their latest treatment invokes the iconic animation of Pink Floyd's legendary The Wall film and concept album. In fact, as NPR points out, this "Two Against One" video is a kind of preview for a forthcoming full-length, live-action film based on the LP in the works.
"The music video is essentially the fever dream of the antagonist of the story," said Milk. "It's mostly his backstory, his life before the tale we see in the movie."
Danger Mouse, aka Brian Burton, elaborated on the concept record's need for visual context: "Rome as a whole is a piece of music with such a specific identity and history that it was crucial for all the accompanying visuals to reflect that."
Without further ado, enjoy our favorite track from this set, featuring lead vocals/lyrics by Jack White and animation/illustrations by Anthony Francis Sheppard, above.