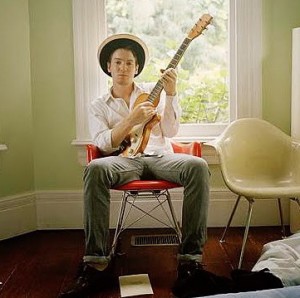 Emerging singer-songwriter (and one of our favorite young guitar players around) Blake Mills landed a high-profile spot on Conan O'Brien's TBS show last night, performing his contribution to Amnesty International's Bob Dylan covers charity compilation, Chimes of Freedom. Despite the fact that Dylan remains one of the most oft-covered musicians of the past five decades, Mills brought his own spin to the format and truly proved that the daunting task of taking on the poet laureate of rock is often a worthwhile endeavor. In short, he completely killed it. Along with Danielle Haim's formidable skills on simultaneous backup vocals and drums, Mills went for a more obscure cut, 1990 Shot of Love tune "Heart of Mine," showcasing some inspired lead slide runs and vocals that recall Dylan's notoriously smooth-throated Nashville Skyline era.
So, without further ado, get acquainted with Mills and Co. below (via Audio Perv):
Pretty good stuff, right? If you dig this kind of thing, Mills has an LP out now and a great introductory 7″ available via Analog Edition.