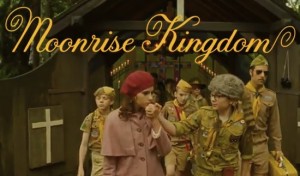 The trailer for Wes Anderson's first live-action film since The Darjeeling Limited, the Alexandre Desplat-scored Moonrise Kingdom, arrived today in all its whimsical, meticulous glory we've come to expect from the wonderfully consistent director. In the 2-minute teaser, we get our first glimpse of Anderson's latest group of collaborators — Bruce Willis, Frances McDormand, Ed Norton, Tilda Swinton, etc. — as well as some familiar faces from his previous efforts, namely Bill Murray and Jason Schwartzman.
Co-written with Darjeeling collaborator Roman Coppola, the film promises a quirky tale revolving around a kid running away from Boy Scout camp, played by newcomer Jared Gilman in his debut film role. As you may recall, Jason Schwartzman — now a successful movie and television actor, not to mention mastermind behind music project Coconut Records — was also discovered by Anderson at a young age when he was plucked from relative obscurity to star in 1998's Rushmore.
The jury's out on whether Gilman will follow in Schwartzman's footsteps, but based on this promisng preview, I wouldn't be surprised if this is just the start of an impressive career — even if that only means becoming a permanent member of Anderson's loyal family of actor/collaborators. Without further ado, get psyched for one of our most anticipated, music-related films of 2012 by checking out the clip above.