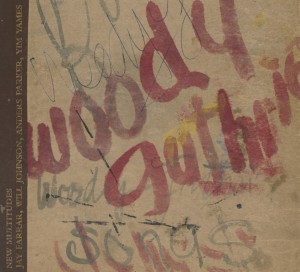 There are two more archival Woody Guthrie releases set to arrive this year following last August's Note of Hope collection: a box set, extended version of Wilco/Billy Bragg's Mermaid Avenue series containing a documentary along with outtakes and other previously unheard recordings, as well as New Multitudes, an album of songs composed by Son Volt's Jay Farrar, My Morning Jacket's Jim James, Anders Parker, and Centro-matic's Will Johnson from unpublished Guthrie lyrics.
Regarding the latter release — set to arrive on February 28th via Rounder Records — "Much of it was culled from Woody's times in L.A.," said Nora Guthrie on behalf of the folk pioneer's estate. "Lyric-wise, it's a part of the story that is still mostly unknown. From Woody's experiences on LA's skid row to his later years in Topanga Canyon, they are uniquely intimate, and relate two distinctly emotional periods in his life ."
Going by his solo moniker, Yim Yames, the MMJ frontman said of the project: "I think as time rolls on, younger people might not know about Woody so I do think it's important for every generation to carry the musical torch of discovery and keep passing it down."
Well, we won't have to wait until next month for a taste of this latest incarnation of what said musical torch will sound like, as a first preview of the set is here in the form of "Old L.A.," a memorable folk-rock take on Guthrie's lyrical impression of the City of Angels, primarily featuring Farrar on vocals. You can hear the cut below:
The full LP consists of the 12 tracks listed below, while a bonus edition includes 11 additional songs led by Farrar and Parker.