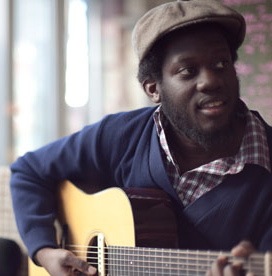 Hard to believe it's been almost a year since this gem was unearthed, but here we are, three stunning EPs, video proof of live prowess galore, and now the top prize on the BBC's Sound of 2012 list just 9 months later. Michael Kiwanuka was indeed one to watch in 2011, but we — along with a host of new fans — will continue to keep our eyes and ears on one of London's most promising voices going forward.
"I never expected to be recognised in this way," Kiwanuka said after the announcement, humbly taken aback by his topping the likes of Frank Ocean, Kanye West, and Jay-Z on the UK taste-maker poll. "It's a great surprise and it means a lot that people are accepting the music they've heard so far, and it will bring the music to many more people, which for any musician is a great privilege."
Of all the instantly timeless Kiwanuka jams we've been raving about, our go-to when first introducing his range, charisma, and originality remains that first cut, "Tell Me A Tale." With the year he's been having so far, it's looking like Michael's tale of musical success will be the one we'll be telling for a long time. If you haven't heard him yet, dive in with the cut below or at the links above.