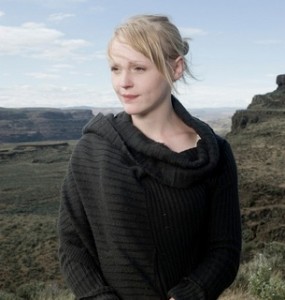 What with all the new songs she's been debuting live of late — not to mention that Ryan Adams duet at Abbey Road — it's been a while since we've given Laura Marling's most recent LP, A Creature I Don't Know, its due as one of the best folk records of last year. Now comes a great chance to revisit the set: "The Beast," the record's fifth track, now has a corresponding — or "re-appropriation" in the form of a — poem. "The first line of the poem was essentially what sparked the ideas behind the album," she told Q Magazine, adding later: "It came from a quote from Thomas Jefferson that I came across in a book called Sisters Of Fortune, talking about the abolition of slavery We have the wolf by the ears and we can neither hold him nor safely let him go. Blind plagiarism."
Rather than publish "The Beast" in a literary magazine, write it out for a single's liner notes, or employ another more traditional medium to share the piece, Marling has gone the new media route: registering the domain name The-bea.st for an interactive website featuring illustrations integrated with the text. Notably, the song bearing the same title on the LP does not stream and isn't even mentioned on the site, making Marling's foray into poetry a much more committed endeavor than simply a promotional event for what could be a single (FWIW, this is our favorite cut on the record).
So, without further ado, hear/read "The Beast," narrated by Old Crow Medicine Show's Gill Landry, thataway.