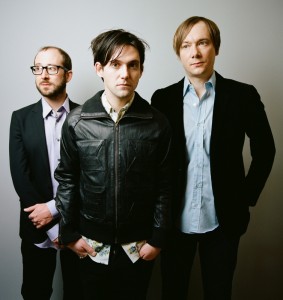 With the promotional rounds on their excellent 2011 LP, The People's Key, tapering off, Conor Oberst, Bright Eyes, and other folks at Saddle Creek are back to making headlines in their home base of Omaha, Nebraska. The first story to catch our attention from the indie heartland this week is some great news for longtime Bright Eyes fans: 6 pre-Lifted releases are getting the vinyl reissue treatment this spring, including A Collection of Songs Written and Recorded 1995-1997, Oh Holy Fools – The Music of Son, Ambulance and Bright Eyes, Letting Off the Happiness, Every Day and Every Night, Fevers and Mirrors, and There is No Beginning to the Story.
These records (all of which we can confirm are a must-hear/own for those looking to trace back the steps from better-known later material) will be released in pairs on three separate dates. You can check out the details or pre-order the whole set here.
Now for a political piece of news coming from a number of artists on the Saddle Creek roster: "We find [Senator Beau McCoy's proposed LB 912 law] deplorable and unacceptable," wrote Oberst, Orenda Fink, Laura Burhenn, Clark Baechle, and 12 other notable Omaha-based musicians to Nebraska senators, opposing a measure that would, they say, "effectively squash" Councilman Ben Gray's proposed "citywide ordinance that would ensure equal employment opportunity for all, including our LGBT community."
Furthermore, Oberst and Co. assert that defending this issue could be of vital importance to the future of the state's burgeoning arts scene. Given that Mike Mogis' studio in said scene recently produced this stunning piece of musical art, that's a scary thought. Read the full letter here.