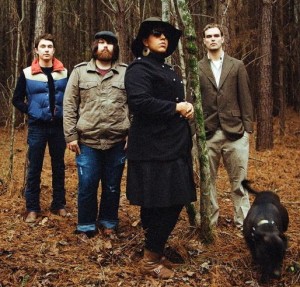 We had a feeling their time would come soon after last year's Alabama Shakes posts took on a life of their own and here we are: the Shakes' debut LP, Boys & Girls, is set for April, a live single on Jack White's Third Man Records is imminent, and next month will bring their television debut on Conan. A meteoric rise, sure, but a well-earned one for the Athens, Alabama group.
Now for some details on the band taking it to the next level in 2012:
Third Man Records 7″: In February, Jack White's Nashville label will release two songs from the Shakes' performance at TMR headquarters as the first installment of live singles in the Blue Series. Produced by White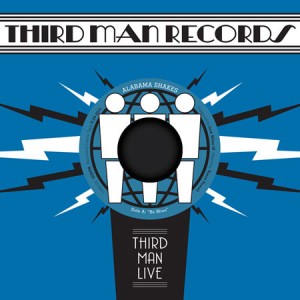 himself and mixed by Vance Powell, the analog-recorded set comes with A-side "Be Mine" backed by "You Ain't Alone." Check out the deco-style artwork to the right.
Conan: That's right, Conan O'Brien will host a live performance by our favorite emerging rock act during his TBS late-night show on February 7. The televised gig will mark the band's debut in the nationally distributed format, and given that the Alabama Shakes can raise goosebumps just by watching a humble YouTube clip of their live show in a local record store, they will undoubtedly be awesome.
Boys & Girls LP: As it turns out, that acoustic live tune we raved about a few weeks back is, in fact, the title track to the Shakes' debut album. The 11-track effort will be released on April 9 in the U.S. via ATO Records and the following day elsewhere via Rough Trade. Today, you can hear the opening track (along with other album cuts) by streaming their EP here. Below, preview the official tracklist alongside a recent live clip of AS tearing the roof off the 40 Watt Club with "Heavy Chevy."
01. "Hold On"
02. "I Found You
03. "Hang Loose"
04. "Rise To The Sun"
05. "You Ain't Alone"
06. "Goin' To The Party"
07. "Heartbreaker"
08. "Boys & Girls"
09. "Be Mine"
10. "I Ain't The Same"
11. "On Your Way"