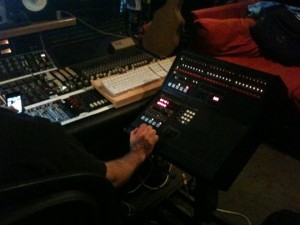 It's been a half-decade since Tool released their last LP, 10,000 Days, which — given their 5-year pace between albums since 1996 — puts them right on schedule for a follow-up. Now confirmation that their next batch of fresh material is in the works has come via an official newsletter, as well as a few juicy details about sessions that have gone down so far.
Most notable, perhaps, is that producer and 10k Days engineer Joe Barresi is working with the band at a home studio. In addition to his previous work with Tool, Barresi has produced a number of popular rock bands, including Coheed & Cambria, L7, the Melvins, Wolfmother and — former Tool tourmates — Isis.
As fans of both vintage gear and analog recording around here, one equipment-related side note caught our eye: "song after song — in all their musical complexity — were being captured on tape (Yes, tape! For this record, a Studer A827 'Gold Edition' analog tape recorder had been trucked in." What's more, reverb for the session (on at least the guitars) was created with an old Echoplex unit. For a great taste of the tones on that machine, by the way, you can hear it in all its glory on Bruce Springsteen's 1980s 4-track cassette LP, Nebraska — particularly on the song "State Trooper."
Aside from these details and the photo of a console above, more concrete info is not yet available. Suffice it to say, though: Tool's fifth full-length record is imminent for 2012.