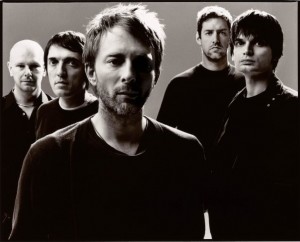 "The Daily Mail" and "Staircase" might be the latest new Radiohead songs to reach our ears, but Thom Yorke, Jonny Greenwood, and Co. have plenty more in stock: "We've been rehearsing about four or five new songs this week," Ed O'Brien revealed on UK radio station XFM today, adding that the band are planning to keep 2012 tour dates fresh by possibly sprinkling in some new material among the sets. What's more, "if that means at the end of the year we might have nipped into the studio for a couple of weeks and done an EP or something else then it could be," he said, teasing that a potential follow-up to this year's The King of Limbs, numerous remixes, and one-off singles could be around the corner.
Of course, O'Brien wasn't the only Radiohead member to tease us with behind-the-scenes details recently: "We have this version of ["Come to Your Senses"]. It's a five-minute rehearsal, but it has the essence of what we need," said Yorke in an interview with Rolling Stone. "There are a few of those."
If you haven't already picked up tickets to their forthcoming tour, you might want to do so soon (many dates are already sold out), though there will be one opportunity for us to catch a live set from the band no matter where in the world you're located. Today, Austin City Limits announced their next batch of groups scheduled to perform on the series: the Shins, the Civil Wars, Rodrigo y Gabriella, and — you guessed it — Radiohead.
The taping for that show won't be until next spring, with an air date arriving later on in the year. It's a long way off, but who knows, we might even have a brand new Radiohead EP in our hands by then. As O'Brien says, their goal is to "keep [future release plans] as fluid and flexible as possible."