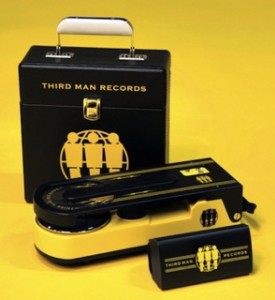 Third Man Records dropped news of their year-end release plans today. In other words: the holidays have arrived early, thanks to Jack White and friends.
First up, let's get to White's latest surprise collaboration: Walk Hard co-star John C. Reilly teamed up with Tom Brosseau and Becky Stark, respectively, for a pair of singles — covering the Delmore Brothers with Brosseau and Dolly Parton/Porter Wagoner with the Lavender Diamond frontwoman. Next up is a spoken word release from actor/poet/playwright Edgar Oliver, due out later this month.
And now for the most exciting announcement around here: the latest release in White's goal to reissue all of the White Stripes' catalog will arrive in the form of the following 7″ singles: "The Big Three Killed My Baby" / "Red Bowling Ball Ruth," "Lord, Send Me an Angel" / "You're Pretty Good Looking (Trendy American Remix)," "Candy Cane Children" / "Reading of the Story of the Magi" with "Silent Night", and — last but no least — "Hello Operator" / "Jolene."
Not a bad addition to those "Lafayette Blues" / "Let's Shake Hands" singles and first three Stripes LPs, eh?
TMR's so-called "Winter Bounty" wouldn't be complete without some analog gear, though. In addition to the aforementioned vinyl, they will be including a belt-driven turntable manufactured by Crosley, which features a USB port, FM transmitter, and stereo speakers.
So yeah, this loot is at the top of our Christmas list. (Here's hoping they consider selling new 4-track tape recorders to supplement my analog recording setup in the future.) In the meantime, check out cover art and more details thataway.