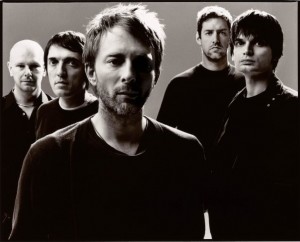 Aside from a few television performances, small venue shows in New York City, and UK festival spots, Radiohead have yet to fully hit the road in support of their latest LP, The King of Limbs. All that will change next February, though, as Thom Yorke, Jonny Greenwood, Colin Greenwood, and Phil Selway are ready to cross the pond for a string of 2012 U.S. tour dates. The 10-city, South/Midwest jaunt was announced earlier this week with tickets for almost every date going up for sale today via Ticketmaster (Tickets for the concert in Florida will be made available next Saturday).
Even better news to those of us living outside of the scheduled tour path is that further stops are to be revealed in the future, according to the band's website, which simply stated, "more to follow." In the meantime, here's what we have so far:
In other news, Radiohead also announced this week that their full performance on Nigel Godrich's From the Basement is available to purchase as a DVD or Blu-ray disc, with orders for the The King of Limbs-heavy set shipping out in time for the Christmas holiday.