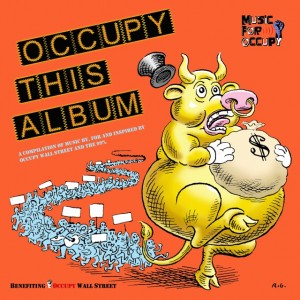 Dozens of solo artists, bands, and legendary musicians have jumped aboard the Occupy movement in recent weeks — more recently, Zack de la Rocha penned a poem for OWS — and now the official release of recorded music for the cause is on the way. Aptly dubbed Occupy This Album, the compilation will arrive later this winter with contributions from the likes of David Crosby and Graham Nash (who performed at Zuccotti Park the other day), Jackson Browne, Devo, Third Eye Blind, Ya Lo Tengo, Lloyd Cole, members of Woody Guthrie's family, Lucinda Williams, and — the only non-musician revealed to be joining the project — director Michael Moore.
The LP seeks to "provide an anthem and rallying cry for the protesters involved in the uprising," said Occupy This Album producers in a statement to the press. One producer, Jason Samel of Music for Occupy, reassured that all proceeds from the set will benefit the movement directly, with half going to the group's General Fund and the other half of the profits being distributed evenly to nationwide occupation sites.
Given the musical element to this historic event so far, we can't wait to see how an organized official release will shape up in coming months. Once a tracklist and further details are available, updates will be posted here.