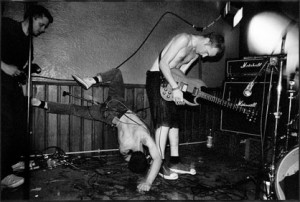 Dischord Records are finally ready to begin rolling out their massive digital live archive for Fugazi after first revealing the project last year. As The New York Times reports, over 1,000 shows from the band's 15-year run have been added to a live index, with 130 being made available for purchase starting this Thursday and a total of about 800 recordings on the way. The band are charging a suggested price of $5, though — in a Radiohead-esque pay-what-you-want model — concert audio can be bought for just one dollar or a donation of any amount above that.
What's more, an all access pass will include every gig currently available in addition to future uploads. That option isn't cheap, though, as it's going for a wallet-punishing $500.
This has been a big week for Fugazi co-frontman Ian MacKaye with both the launch of this daunting endeavor and the return of his duo with Amy Farina, the Evens. Here's hoping it's just the start to another awesome era in Dischord's history. So, without further ado, you can check out the archives and create an account to go live later this week here.