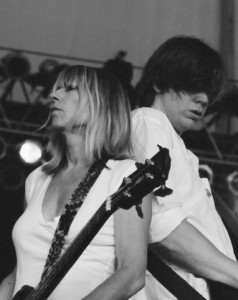 Thurston Moore and Kim Gordon of Sonic Youth, one of indie rock's most enduring couples, have announced their separation after nearly three decades of marriage. A statement from their record label, Matador, adds: "Sonic Youth, with both Kim and Thurston involved, will proceed with its South American tour dates in November. Plans beyond that tour are uncertain."
Moore and Gordon married back in 1984, two years following the release of Sonic Youth's self-titled debut. The band went on to release 16 full-length studio albums, most recently 2009's The Eternal. This year, Moore released a solo album, Demolished Thoughts, which was produced by Beck.
This is sad news indeed (Moore's account of how they met), but here's hoping that the future of SY becomes less "uncertain" soon and that the pair will have happier days ahead of them, together or apart.