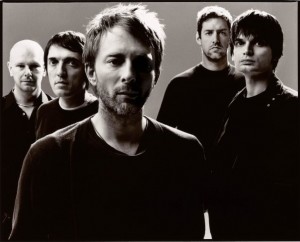 Radiohead's recent week in New York City — promoting The King of Limbs on Saturday Night Live, The Colbert Report, Late Night with Jimmy Fallon, and for a few non-televised live performances — is only the start of what they have in store for the rest of 2011. This winter, Radiohead will return to their Oxford studio to record more new material, Thom Yorke revealed to Rolling Stone. What's more, Yorke's side project, Atoms for Peace, has a full-length debut nearing completion.
"There are a few of those," he said of new Radiohead tune "Come to Your Senses," which was recorded during a rehearsal that captured "the essence of what [they] need." He added, "It would be fun to have them ready when we go to play next year. I don't know how we would release them. It would be nice to make it all part of the flow and just enjoy it – not think about it too much."
Meanwhile, producer Nigel Godrich revealed they are "waiting for the lightning bolt to strike" in order to complete work on an Atoms for Peace album, which is set to include solo Yorke songs with and without his all-star band's lineup of Flea, Godrich, Maura Refosco, and Joey Waronker. By the looks of things, 2012 just might be an even bigger year for Radiohead than this year — or, at the very least, an equally productive one.