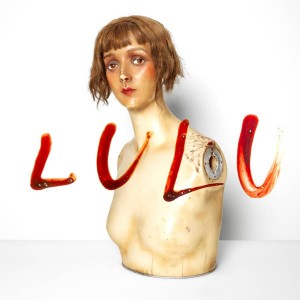 As Halloween — the official worldwide release date for Lulu — approaches, Lou Reed and Metallica have been revealing bits of information about their somewhat unlikely collaboration. Produced by Reed and Metallica themselves, along with Hal Willner and Greg Fidelman, the LP contains 10 tracks in total, donning the wonderfully disturbing piece of cover art shown to the left. As for the project being dubbed  "surprising" by many, the former Velvet Underground leader begs to differ: "An odd collaboration would be Metallica and Cher," said Reed (who recently honored the late Amy Winehouse at a pair of concerts). "That would be odd. Us – that's an obvious collaboration."
While there's a lot of speculation floating around about what this set just might sound like (perhaps we've already heard a taste via their Rock Hall team-up), we'll hold out judgement until those first notes grace our ears. I, for one, can't wait to hear it.
In the meantime, you can let your imagination run wild with the track titles revealed so far. Check out the tracklist below while the bloody, armless mannequin artwork above stares into your soul.
01. "Brandenburg Gate"
02. "The View"
03. "Pumping Blood"
04. "Mistress Dread"
05. "Iced Honey"
06. "Cheat On Me"
07. "Frustration"
08. "Little Dog"
09. "Dragon"
10. "Junior Dad"