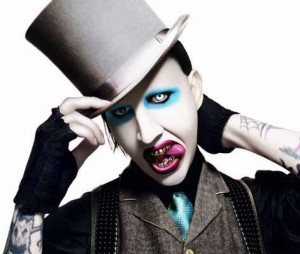 Just in case any Marilyn Manson fans were afraid his creative partnership with Shia LaBeouf (originally reported to be directing a documentary on Manson) might soften the multi-faceted goth hero's image, they can rest assured that Manson has found a kindred spirit in the Transformers star: "Born Villain," Manson's new LaBeouf-directed video comes replete with Devilish red lighting, self-mutilation, and nightmare-ready imagery.
LaBeouf, who says Manson is "like a brother" to him now, told MTV the collaboration might not sit well with the fan base he built up as a former child actor starring in family-friendly flicks:
I also think there are fans of mine who aren't fans of Manson's and vice versa; that's why I think our collaboration is interesting. I don't really see it on paper. I don't see fans of mine who went to see 'Holes' when they were 12 loving this. I don't think my audience is the only thing I should exercise my artistic muscle for. I don't necessarily always do things for the audience; this is one of those.
Check out his Disney departure and Manson's familiar territory below: