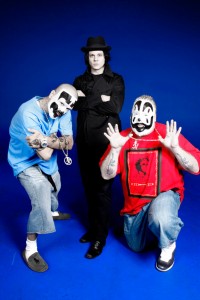 Violent J and Shaggy 2 Dope are back with yet another cut from their surprising collaboration with Third Man Records mastermind Jack White: "Mountain Girl," in which the trio set Mozart aside for a country-inspired ditty, breaking out the pedal steel and a shuffling beat. Basically, we're hearing ICP/TMR, The Unplugged Edition. This odd tune arrives as the B-side to their so-insane-it's-brilliant single "Leck Mich Im Arsch."
Hear "Mountain Girl" below (via CoS):
Meanwhile, White has plenty of other collaborations on the way that are a bit closer to what we've come to love from the former White Stripes singer: a debut LP with the Black Belles, a new Lanie Lane single, a tribute to U2, and  — of course — the return of the Raconteurs.