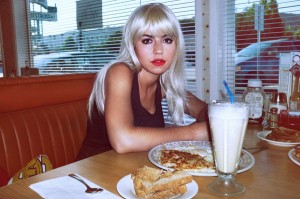 Before the sophomore LP from Marina & the Diamonds arrives early next year, Marina Diamandis and co. have a brand new club-ready single to unleash on the charts — complete with this week's equally energetic official music video.  Fittingly, the desert scenery and sizzling beat in the clip align with the steamy weather described on the day the tune was born, thematically catalyzed, according to Diamandis, by a heat wave in New York City.
"Introduced to a glittering new nightlife, I fell in love with New York; it has this magic, fizzing white energy that no other city in the world has," she said of that "Radioactive" day. "I felt happy and was inspired to write a song that felt light and euphoric, a more streamlined, minimalistic style of songwriting."
Check out the clip above. Meanwhile, an acoustic version is available in exchange for signing up for her official mailing list. You can pick up an MP3 here and preview the unplugged take below.