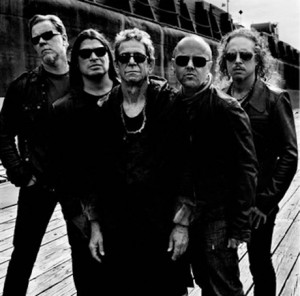 That surprise collaboration between former Velvet Underground leader Lou Reed and metal veterans Metallica is not only in the can, but the forthcoming LP now has a release date and official "this is really happening" promo photo to boot. The group's new website, aptly located at loureedmetallica.com, went live this week, complete with a photo of the quintet wearing matching shades (left) and an announcement of the November 1 (North America) and October 31 (elsewhere) release.
"It's may be the best thing done by anyone, ever," Reed said of the project, which features songs he originally wrote for a stage version of Frank Wedekind's Lulu. "It could create another planetary system. I'm not joking, and I'm not being egotistical."
As of now, there's no word on tour dates from Loutallica ("I don't think Metallica want to be a band on Broadway!" Reed added of the oddball pairing of theater songs backed by metalheads), but something tells me that 2009 collaborative Rock Hall of Fame performance where they met won't be their last. Until then, revisit "Sweet Jane" below.