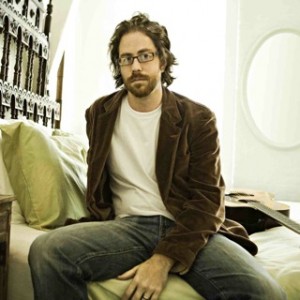 Truth be told, we weren't too familiar with Jonathan Coulton before the National's Portal 2 song, "Exile Vilify," caused us to look deeper into the video game franchise's previous soundtracks. Having now heard — and loved — his closing credits tune, "Still Alive," it's exciting to see that a new album is on the way from the Brooklyn singer-songwriter. Artificial Heart, Coulton's follow-up to 2006's 52-song "Thing A Week" series, arrives on November 8. Produced by They Might Be Giants' John Flansburgh, the record boasts guest appearances by Suzanne Vega, the Long Winters' John Roderick, and Sara Quin.
Today, you can preview our first taste, "Good Morning Tucson," a catchy cut, which includes a lyric that keeps cracking me up: "I'm still sort of amazed that you can be born in the '90s." Same here, dude. Check out a video he put together recently while on vacation in Cape Cod below. Here's a list of the equipment, props, cast, and transportation employed: "a couple of iPhones, some duct tape, a kite, a rocket, an RC airplane, two children, a wife, a giant inflatable sphere, and a 2004 Volkswagen Jetta."
Meanwhile, you can download an MP3 of the track over at Blurt Online.