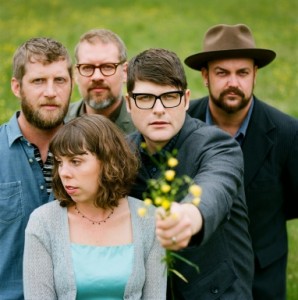 Colin Meloy and Co. aren't done promoting their excellent new LP, The King Is Dead, just yet, as another music video and an iTunes session (complete with a few new covers) have just hit the Web, not to mention the Decemberists will be performing a pair of pseudo-hometown concerts this week to close out a relentless run of touring this year.
First up, "Calamity Song" now has an official clip, directed by Michael Schur (of Parks and Recreation fame) and inspired by David Foster Wallace's great novel Infinite Jest. While Meloy initially had trouble finding a director willing to take on the daunting task of channeling the Enfield Tennis Academy depicted in the book, Schur was thrilled with the idea of adapting part of his favorite DFW novel into a video. He told NPR: "Infinite Jest geeks will hopefully enjoy all of the specific references and small details, but we tried to design it so that those with no knowledge of the book at all would be able to understand and enjoy it, as well."
In addition to the result of their "Calamity Song" video efforts, we're also streaming a live take on "Hey, That's No Way to Say Goodbye," a cover off Leonard Cohen's seminal debut LP, which the Decemberists also recorded for iTunes alongside their take on the Fruit Bats' "When U Love Somebody" and other original songs. Below, you can hear a duet version of the tune recorded at a recent show, featuring Sara Watkins.
"Hey, That's No Way to Say Goodbye" (Leonard Cohen Cover, Live)